Study-abroad and student travel programs are an incredible opportunity for young people to experience the wide world. But there's always one student who misses the plane, loses their passport or ends up in the hospital after eating bad pineapple. What will you do if you are in that situation?
As an International Student, accidents and sudden illnesses can be very traumatic and expensive experiences when you're away from home. Comprehensive but affordable, the Student Plan is specially designed for an international student that covers you for unexpected medical or travel-related expenses as you embark on your new adventure.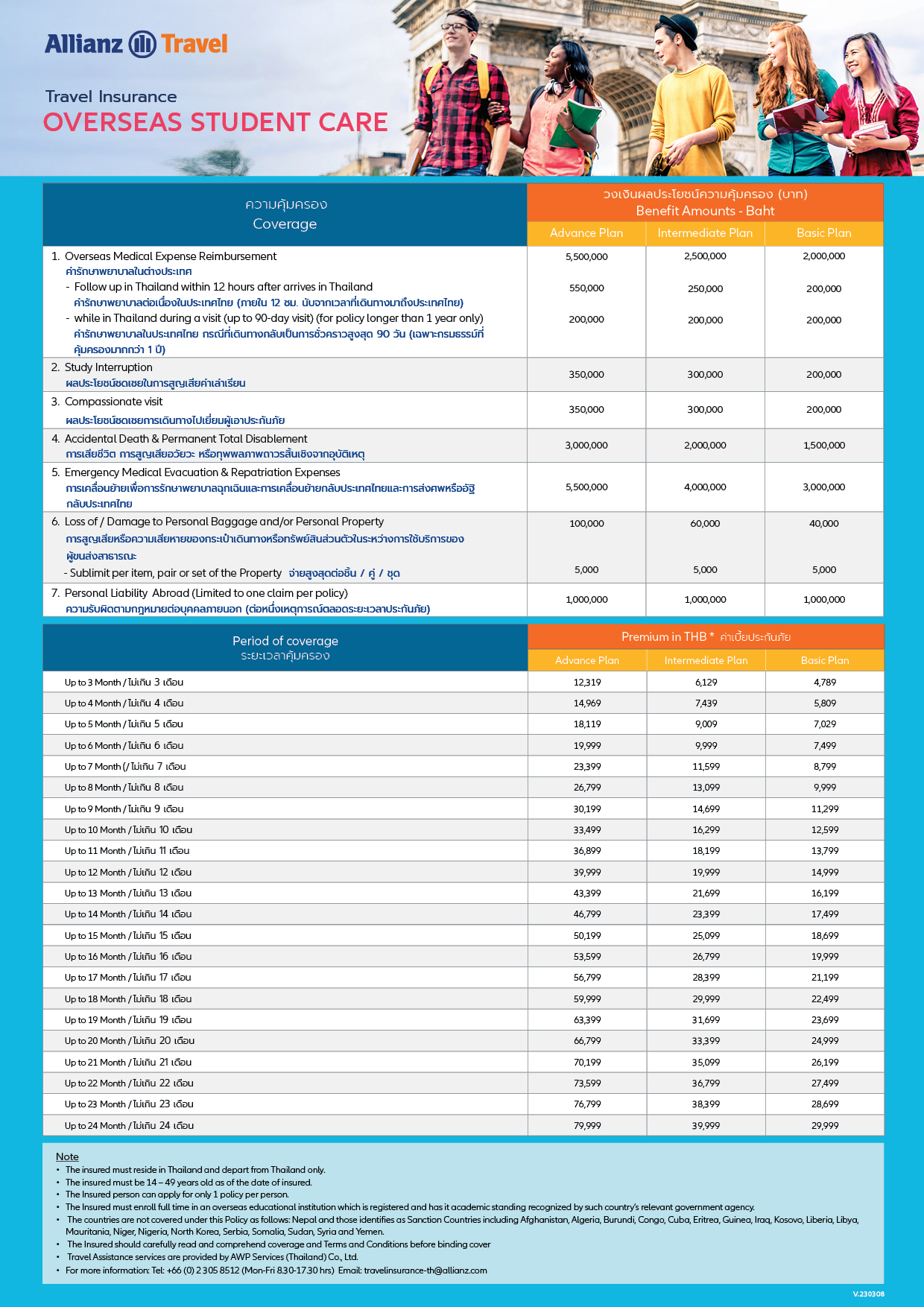 Who Can Purchase Our Travel Insurance?
• The Student Plan is suitable for students who plan to study abroad.
• Age of travelers is between 14-49 years old
• 24/7 global assistance for both accidents and health.
• Coverage including return home visit up to 90 days.
• Tuition compensation If suddenly sick and unable to continue studying
• More than 400,000 support networks worldwide with more than 60 years of experience.
• We are ready when you need help, giving you peace of mind for both students and parents.
Where Does It Cover?
Student Plan covers worldwide (Except the following sanctioned countries: Afghanistan, Algeria, Burundi, Congo, Cuba, Eritrea, Guinea, Iraq, Korea (North), Kosovo, Liberia, Libya, Mauritania, Niger, Nigeria, Serbia, Somalia, Sudan, Syria, Yemen, and Nepal.)
This travel insurance product is managed and sold by AWP Services (Thailand) Co., Ltd. (the authorized brokerage company, Non-Life Broker License No. Wor00034/2559, under the tradename of "Allianz Travel") and underwritten by Allianz Ayudhya General Insurance Public Company Limited. Please read and study Travel Insurance Policy that specified all terms and conditions of benefits coverage, exclusions, period of coverage, premium and other relevant information therein. If you have more inquiries or questions, please do not hesitate to contact us for more information or assistance before completing your purchase.
*Conditions apply