Dance Moves Single Plan is simple and flexible. We offer coverage for one trip and cover you against medical costs, cancellations and curtailments and any unexpected happen during the trip abroad. The Single-plan travel insurance can cover you up until 180 days.
No matter whether you are flying to the Americas, Europe, or Africa, taking a ferry in Scandinavia, or driving to Laos or Malaysia, we've got you covered 24/7 with our extensive global network backing you up.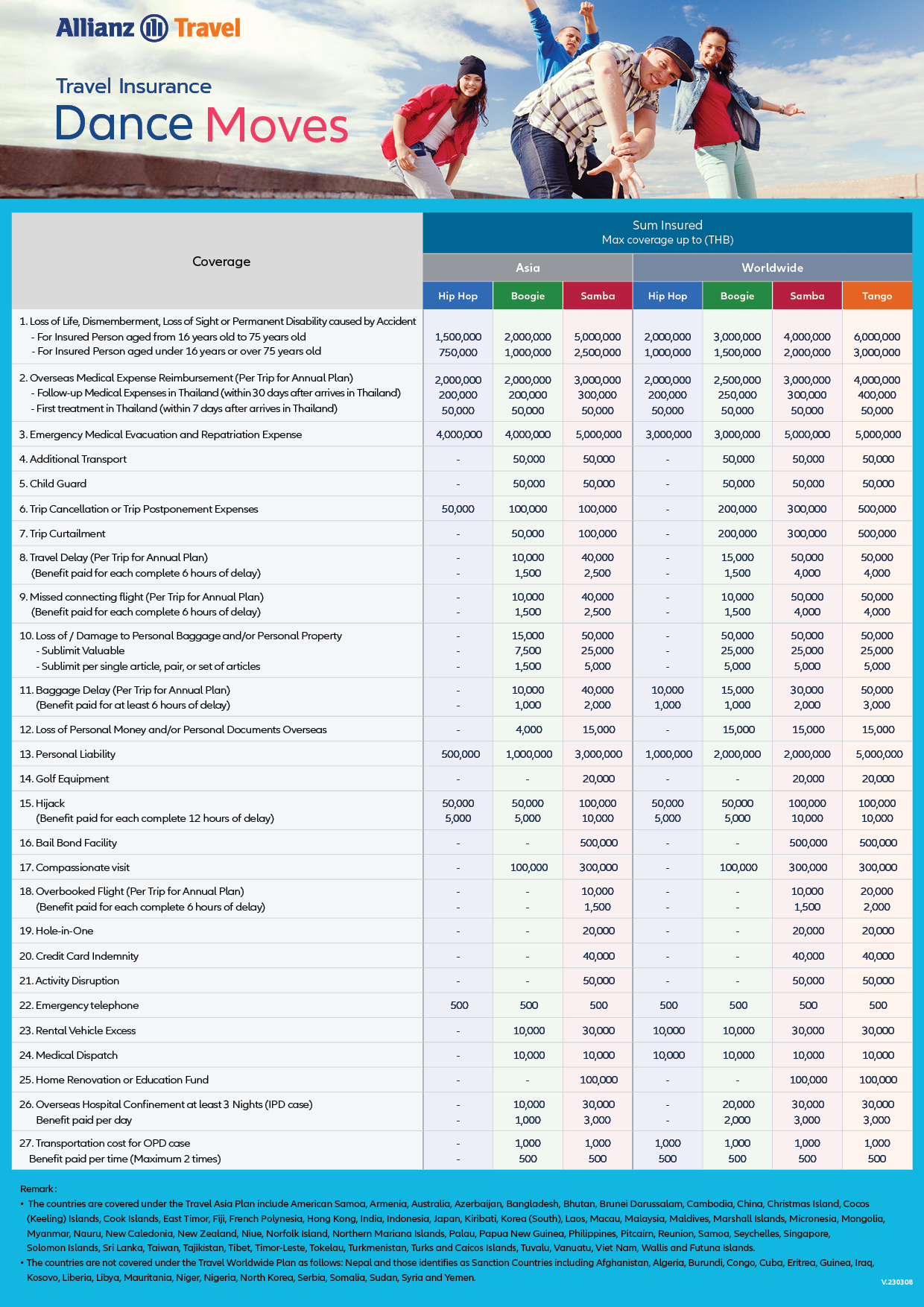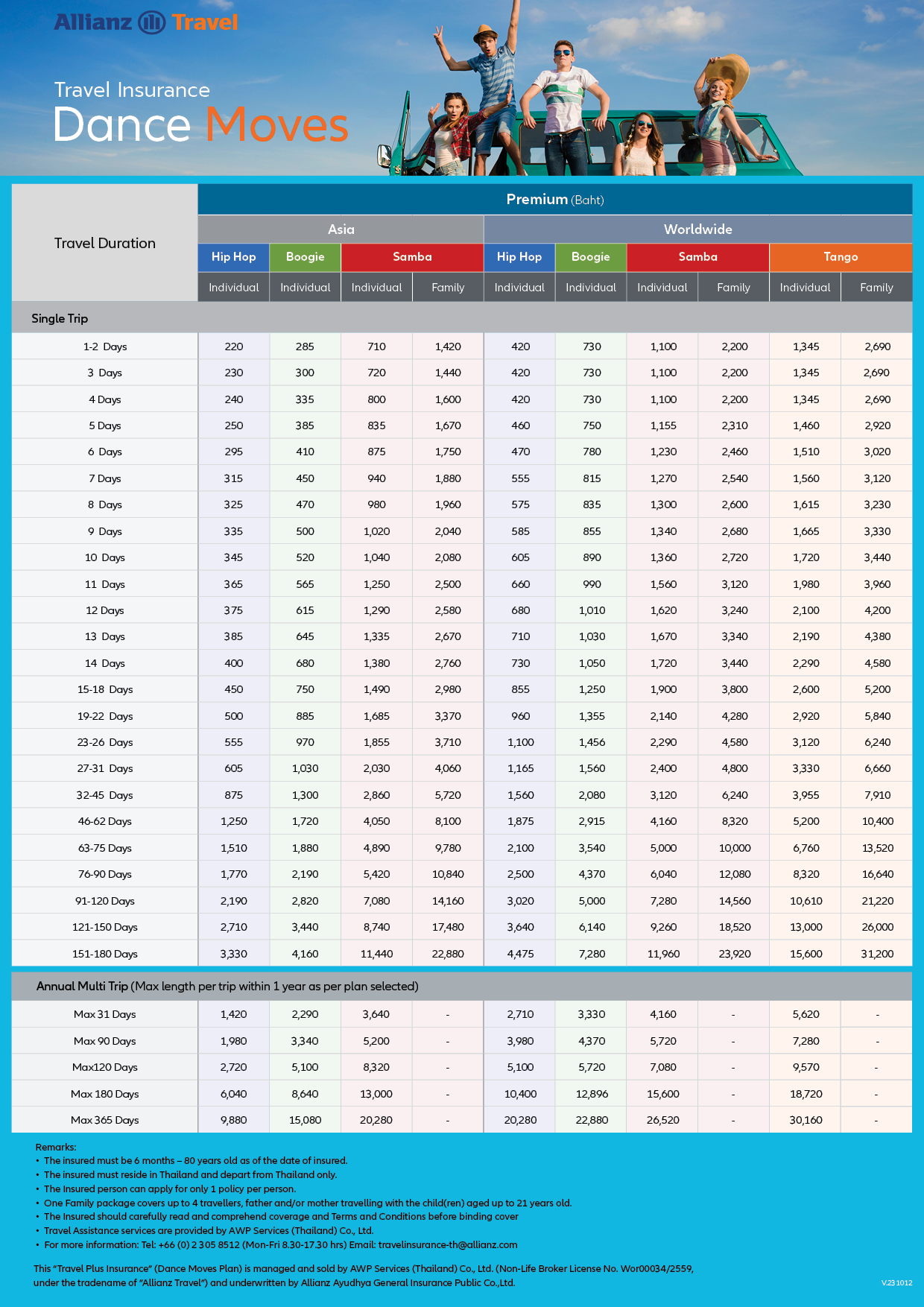 Who Can Purchase Our Travel Insurance?
Whether you are a Thai citizen, permanent resident, a holder of an employment pass, work permit, student pass or a dependent pass, and your trip starts from Thailand, then you can be covered by us!
Your cover is also extended to those persons named on your certificate of insurance. If you would like to have special price for family trip, you can choose Samba Plan.
Where Does It Cover?
• Asia Coverage: American Samoa, Armenia, Australia, Azerbaijan, Bangladesh, Bhutan, Brunei Darussalam, Cambodia, China, Christmas Island, Cocos (Keeling) Islands, Cook Islands, East Timor, Fiji, French Polynesia, Hong Kong, India, Indonesia, Japan, Kiribati, Korea (South), Laos, Macau, Malaysia, Maldives, Marshall Islands, Micronesia, Mongolia, Myanmar, Nauru, New Caledonia, New Zealand (Aotearoa), Niue, Norfolk Island, Northern Mariana Islands, Palau, Papua New Guinea, Philippines, Pitcairn, Reunion, Samoa, Seychelles, Singapore, Solomon Islands, Sri Lanka, Taiwan, Tajikistan, Tibet, TIMOR-LESTE, Tokelau, Turkmenistan, Turks and Caicos Islands, Tuvalu, Vanuatu, Viet Nam, Wallis and Futuna Islands, Solomon Islands
• Worldwide Coverage: Worldwide (Except Afghanistan, Algeria, Burundi, Congo, Cuba, Eritrea, Guinea, Iraq, Korea (North), Kosovo, Liberia, Libya, Mauritania, Niger, Nigeria, Serbia, Somalia, Sudan, Syria, Yemen, and Nepal.)
This travel insurance product is managed and sold by AWP Services (Thailand) Co., Ltd. (the authorized brokerage company, Non-Life Broker License No. Wor00034/2559, under the tradename of "Allianz Travel") and underwritten by Allianz Ayudhya General Insurance Public Company Limited. Please read and study Travel Insurance Policy that specified all terms and conditions of benefits coverage, exclusions, period of coverage, premium and other relevant information therein. If you have more inquiries or questions, please do not hesitate to contact us for more information or assistance before completing your purchase.
*Conditions apply